Buck's Scholarship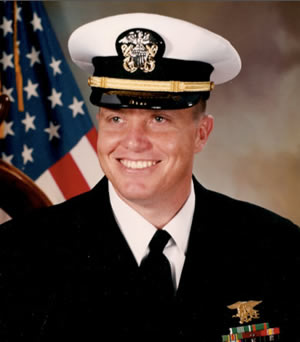 Biography of Ensign Jerry "Buck" O'Real Pope II
Ensign Jerry "Buck" O'Real Pope II was born 2 October 1967. A native of Tallahassee, Florida, he graduated from Leon High School in 1985. After a year of junior college, his competitive spirit, athletic ability, and undying devotion for his country led him to the United States Navy. The Navy assigned him as a fire controlman when he enlisted in 1987. However, intrigued with the history of the Navy SEALs, he actively sought assignment to Basic Underwater Demolition School/SEAL (BUD/S) Training.

Later that year, Petty Officer Pope received his wish with orders to Coronado, California to attend BUD/S. Unfortunately, only weeks before graduation he suffered from a near fatal training injury. Following recovery and rehabilitation, Petty Officer Pope returned to BUD/S to complete training and graduate with Class 165. After BUD/S he was assigned to an east coast SEAL Team for duty but not long after his arrival he felt his interest lay in medicine and cross-rated to hospital corpsman. As a Navy SEAL qualified hospital corpsman, he deployed multiple times throughout the U.S. Southern command before being transferred to Fort Bragg, North Carolina to serve as an instructor at the renowned Joint Special Operations Medical Training Center.

Despite an intense teaching schedule, Petty Officer Pope attended college during his off-hours and within a few years earned a Bachelor of Health Science degree with honors from Campbell University and acceptance to the Department of Defense Intra-Service Physician Assistant (PA) Program. There Officer Candidate Pope continued to maintain his high academic standards graduating February 2001 in the upper percentile of his class with a degree from the University of Nebraska and a commission as a medical service corps officer.

Following PA graduation, Ensign Pope received orders to the Naval Medical Clinic in Quantico, Virginia where he served until August 2002 when he accepted a volunteer assignment to a specified Individual Augmentee program supporting special operations. Ensign Pope was killed in a motor vehicle crash while temporarily assigned to the American Embassy Yemen for ongoing counterterrorism operations on 16 October 2002. He was interned at Arlington National Cemetery on 21 November 2002.

"Buck," as his friends and teammates knew him, was not only the consummate professional within the special operations and medical communities but someone who possessed an uncanny ability to smile during times that would frustrate even the most patient of individuals. Often he would discuss his past misfortunes with a laugh and calming demeanor that would make others wonder how he was able to maintain his personal stamina and sense of humor during some of the most difficult of times. A selfless man, he often volunteered for the worst assignments and gave more than expected. He was a close friend to many, and everyone who knew him misses him.

Ensign Pope's decorations include the Bronze Star Medal, the Army Commendation Medal, the Navy Achievement Medal, the Navy Meritorious Unit Commendation, the Navy Good Conduct Medal, the National Defense Service Medal, Global War on Terrorism Expeditionary Medal, the Global War on Terrorism Service Medal, the Sea Service Deployment Ribbon, expert Navy Rifleman and Pistol Medals, the Special Warfare (SEAL) breast insignia, and the Naval Parachutist breast insignia. Buck is survived by his wife Andrea his children Drew, Leah, Jack, and his mother and stepfather Violet and Otto M. Stroud, his brother Jeremy Shea Pope who all reside in Virginia Beach, Virginia, his father and stepmother Jerry O. and Susan Pope of Tallahassee, Florida, as well as eight step brothers, two in Virginia Beach and six in Tallahassee.