Gabrielle SCUBA Instructor Tallahassee in the News
2017 has gotten off to a fantastic start! Thanks to some generous donors including Florida Disabled Outdoors Association, we were able to purchase some well-needed adaptive gear for SCUBA divers with disabilities. We are also partnering with Dive Pirates to provide two full scholarships plus SCUBA gear and a trip to Cayman Brac to a combat-wounded veteran purple heart recipient and his wife.
2016 was very busy including donating services and equipment, plus organizing teams of volunteers, with Florida Disabled Outdoors Association, Rotary Youth Camp (for kids with disabilities), the Family Café (for people with disabilities and their families), Veterans Adaptive Sports, and Veterans Oceans Adventures (the latter two nonprofits are primarily focused on serving veterans with disabilities)! We have had over 100 volunteers so far this year.
In June 2015, Gabrielle enjoyed participating in The Family Café in Orlando, Florida where she focused on sharing research on adaptive SCUBA and demonstrated the experience with people with disabilities. Here are a couple of videos of the event: Matthew and TJ experience SCUBA. Gabrielle is an instructor with SEI, CMAS, and Handicapped SCUBA Association (HSA).
In 2014, Gabrielle donated hundreds of hours of time volunteering including at Rotary Youth Camp and at the Florida Disabled Outdoors Association's Sportsability events. She also awarded several full scholarships for SCUBA certification to individuals with disabilities. In addition, she used her SCUBA income to provide surgeries, medication, and other expenses to 60+ animals she fostered and got adopted to great homes bringing her total number of fostered kitties and pups to over 606 to date!
In April 2015, Glorious Galápagos, an article about Gabrielle's SCUBA experience in the Galápagos Islands, Ecuador, was published in Currents, a journal for SCUBA professionals, was published. In July 2013, Gabrielle's article and pictures about SCUBA Diving in Fabulous Florida, as well as her experiences with dolphins and manatees, was published. Download the journal and check out pages 7-14!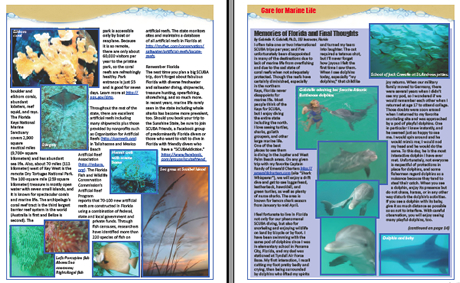 In April 2013, Currents, a journal for SCUBA professionals, published Gabrielle's SCUBA article and pictures about her Magical Maldives SCUBA liveaboard experience. Download the journal and check out pages 4-9!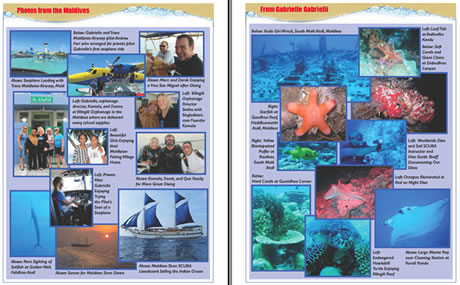 Gabrielle's SCUBA Videos on YouTube
Check out SCUBA Instructor Gabrielle's SCUBA videos on YouTube! Subscribe to our Gabrielle Consulting and SCUBA with Gabrielle YouTube Channel.